custom-made furniture
Bespoke  Furniture
We are experts in creating bespoke furniture using traditional joiner skills and modern tooling methods. All our custom-made furniture is produced to exacting standards and handcrafted with love and care. Our attention to detail is meticulous, and our only aim is your complete satisfaction.
Custom-made furniture is an ideal solution for those looking to maximise space. The very nature of made-to-measure furniture means that each item will perfectly fit your space. Our designers love challenging spaces, hugging corners, and embracing alcoves to create seamless, beautiful lines.
When it comes to finishes, colours, and accessories, you will be spoilt for choice. We cater to just about every want and desire to help create your unique piece of furniture.
Our greatest satisfaction is seeing the smile on your face when you suddenly realise your vision has indeed become a reality.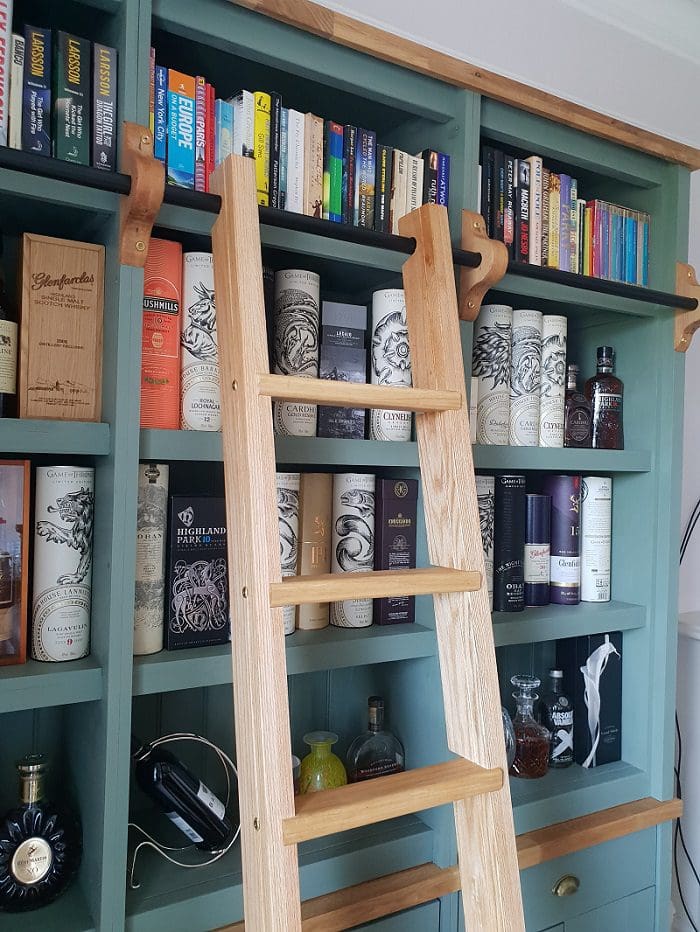 Bespoke Living Room Furniture
We understand that your living room reflects your personality and style. It's a place to share special moments with family and friends, a place to entertain, and a place to relax. Therefore, when you commission custom-made furniture for your lounge, we will work to realise your vision. We'll ensure we fully understand the brief and add our ideas and suggestions along the way.
Our range of custom-made living room furniture is endless. However, some of the most popular items include bookcases, side tables, TV units, dressers, light chandeliers and sideboards. In fact, we can create just about any item of furniture that your heart desires.
We create fully fitted or free-standing living room furniture. Free-standing furniture comes with the added advantage that it can be moved from room to room or to a new address. For safety reasons, your new free-standing furniture may be affixed to the wall but will be portable if needed.
We build dressers, bookcases, home bars, sideboards and tables, kitchens, bathrooms, and even luxury furniture for your four-legged friend. In fact, our range is endless, and the options for customisation are only limited by your imagination.
Ultimately, all our free-standing furniture is made to measure, created to your exact measurements. Every element of the design can be customised to your needs.
Baroque Style Dresser
Featuring ornate detailing a Baroque style dresser has a classic vintage appearance. If you want to incorporate some traditional or antique elements to your home decor this style of dresser is the perfect choice. Fully customised to meet your requirements and finished in any colour you desire.
All our bespoke bookcases are built to be solid, stylish, and functional. Our team meticulously focuses on every detail of your design to ensure we meet your requirements and make the best use of all available space. We know how to deal with tricky corners, uneven walls and awkward alcoves creating designs that seamlessly blend into your room.
The configuration of your new bookcase is entirely personal. Whether you require a combination of shelving and storage or just shelving, the choice is yours. Storage cupboards add depth of style to your bookcase, and extra shelving provides a for display. Ultimately, you will find that we can tailor every aspect of the bookcase to your needs.
We can create your perfect home office designed around your space with more storage than you ever thought possible.
Whether you are looking for a single or double desk, pedestal, or filing cabinets, our designers will create an office in your home that you will love to spend time in.
Our designers can create entrance room furniture to match your needs and space. We can also incorporate storage solutions to help free your entrance from clutter.
Whether it be shoe storage, a wardrobe to hang your coats, or a bench to sit on while taking off your boots, each item is bespoke to meet your requirements.
Bathroom Units & Furniture
Sometimes mass-produced bathroom furniture doesn't do your room justice, which is when our custom-made bathroom furniture comes into its own. With a focus on quality, style, and impeccable attention to detail, we design bathroom furniture, which is strong, durable, and full of character in its own unique way.
Our cabinets, vanity units, and bathroom furniture are totally bespoke. First, choose the height, width, and colour of your units. Then, customise the handles and internal storage to create unique and practical bathroom furniture. From initial design to installation, our team of designers and craftsmen will ensure that your bespoke bathroom furniture realises your dreams.